Braun Mobile Pocket Shaver M60 Red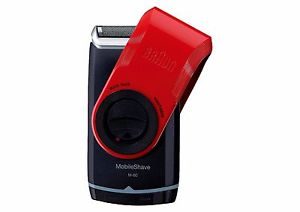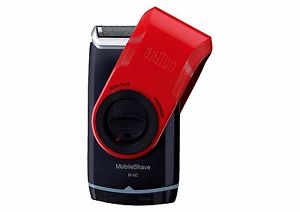 If you are looking to buy a new shaver, want to get a quality product at the lowest price, you should check out this electric cordless, battery operated shaver.
This Braun mobile shaver really surprised me. It has a good feel to it, shaves rather close, and best of all, takes 2 AA batteries. I bought a load of AA rechargeable batteries I use in an assortment of products, and this is one of them. The Braun shaver is very powerful, built much better than an off brand I bought a few months ago, and has a better feel than my old Panasonic shaver it is replacing. In the long run, why pay more than what you need when this will work for an everyday shaver?
I tried another really cheap battery operated travel shaver. I gave that a good review because it did shave, it worked well, it was really light weight, and it also used the AA batteries I have. The problem with that shaver was, the head wore through in about 6 months. Obviously it used cheaper steel and was only designed to be used once or twice a year. It was a travel shaver. The under $10 rotary head travel shaver may be a good buy for a once a year travel shaver, but doesn't touch the quality of the Panasonic or Braun mobile shaver.
The Shaver has an attached folding cover to protect the head if you are traveling. In my humble opinion this will make a great everyday cordless shaver.
I will be reviewing other products I bought from Amazon. So hit the FOLLOW ME button, sign up for new update alerts via email, and get all the latest updates. I review on Amazon but have found they can be quite restrictive at times. If I love the product and post a good review, but if I compare their product to one I feel is higher quality, those reviews are rejected. I want to be honest and let people know what works, what doesn't work, and what works better. The only place I can do that is on my own forum.