Cordless Led Work Light, JIRVY Portable Rechargeable COB Led Flashlight Super Bright 3W Flood Light Torch with Magnetic Stand for Car Repairing, Workshop, Garage, Camping, Emergency Lighting (Large)
I'd like to say I was completely satisfied with this light. A cordless work light is great thing to have whenever working on, especially under a car. The magnetic base holds onto any piece of steel. You can place the light where you want it and shed concentrated light where you need it. The cordless work light is especially good when welding. The self darkening welding helmet is tinted which makes it difficult to see in low light. This cordless work light sheds enough light on the project to clearly see with a automatic darkening welding helmet on, but it is not bright enough to darken the welding helmet.
The cordless work light is rechargeable via a common USB cord. It charges in a few hours and provides a good 3-4 hours of light. The end swivels, making it possible to direct light where you need it.
The problems with this light are, the unit has to be charged when it runs out of battery life. That means you are without the light for a few hours. The magnet holds onto steel surfaces, but is not as strong as it should be. The switch is a 3 position switch, hi, low, and a one cell light on the end. You have to press the button once to turn it on hi. To turn it off you have to press it again to go to low, again to turn on the little light on the end, and once more to turn the light off.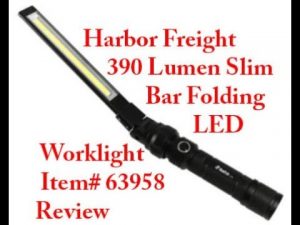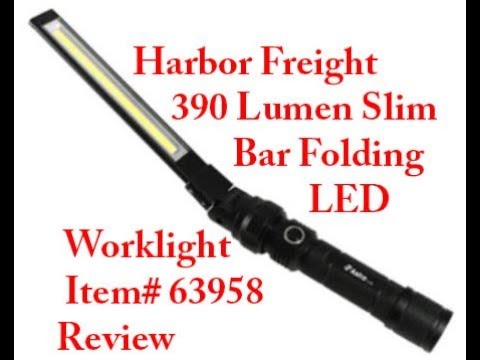 Harbor freight has a more expensive cordless work light that has a longer LED light bulb, a stronger magnet, and a switch that turns off in one click. The Harbor fright light is a better cordless work light, but is more expensive. This light makes a great backup light, and is worth the money, but should have been engineered a little more to be a great cordless work light. The Harbor Freight cordless work light also has a replaceable battery you can switch out in a minute. All you have to do is buy the 18605 batteries and a charger for them. It seems like quite and investment, but well worth it when you consider all the advantages. Like I said, this rechargeable light from Amazon is a great light to try for the price. If you find yourself using a cordless work light on a daily basis, check out the Harbor Freight model.