HAOLI Oscillating Saw Blades For Fein Multimaster,Dremel,Bosch Makita,Einhell Skil and More (HL69-1(69pcs))
This was the highest rated set of oscillating saw blades I could find on Amazon at the lowest price. I looked at close to 30 sets of oscillating saw blades before deciding to purchase this set. Why did I buy this set of oscillating saw blades?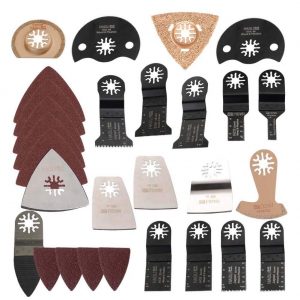 For one thing, this set of oscillating saw blades was the most complete. Let's face it. Every company will offer a set of oscillating saw blades with the less expensive blades, which are not that useful. But with a little ingenuity you can make them more useful. We will get to that later. This set of oscillating saw blades has a number of diamond coated blades I wanted to try. This set of oscillating saw blades had the greatest selection of diamond coated oscillating saw blades I could find. This set also had flat and flexible scrappers, which is what I bought my machine to do.
We have to look at what you want your oscillating saw to do. Are you cutting tile, steel, plastic, wood, drywall, or other material? Oscillating saws are useful for many different projects, limited by your own imagination. I bought my oscillating saw to help scrape paint, rust, dirt, and of course undercoating off car frames to get them ready to repair and paint. Sounds rather odd, but that is why you are reading this article – to get some fresh ideas.
I started going out and spending about $6 a blade to get the job started. The flat and flexible scraper blades seemed to work well on frames and all the stuff they are covered with. We tried the oscillating saw on bondo. It worked well on the few spots we found bondo on car frames, why not try it on the car body. The problem was, no one really does a good job of preparing a car frame to spread on bondo. So the bondo was spread over rust, old paint, undercoating, and of course dirt and grime. Sure, no problem for the oscillating saw blade or scrapper to cut through that stuff. But on the body bondo is applied to prepared steel surfaces with grinder marks or rough sandpaper scratches. The bondo has an exceptional bite. So we applied a little heat and guess what. The bondo comes off with little or no effort. With heat, the bondo comes off so easy, we switched to a putty knife instead of the oscillating saw blades and scrappers. We didn't want to risk over heating the oscillating saw. By the way, if you use heat, make sure you wear a good set of leather gloves like welding gloves, and of course eye protection. Along with follow all the common sense safety guidelines.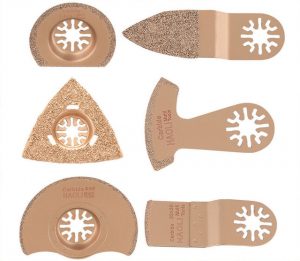 I did of course open this package of oscillating saw blades, took out a nail and proceeded to do a few experiments. The diamond blades that I thought would cut through a steel nail like butter did cut, but when I looked at the blade, much of the diamond dust hit the floor in the process. Not good. I tried the one and only steel cutting blade in the package. It looked like a hacksaw blade on the end of the oscillating tool. It cut at least twice as quick as the diamond coated blades. I tested 2 of the diamond cutting blades. So I tried one of the 12 full width blades marked for wood and plastic. I chose the one with the finest teeth. It did cut through the nail, but took more time, and the teeth were severely worn. Not all is lost. I don't plan on cutting a whole lot of bolts with this oscillating saw. But if I need to, it could come in handy. As far as the diamond coated blades. They are designed for ceramic tiles. I don't do kitchens and bathrooms, so you'll have to find another review in that field.
Now onto using the oscillating blades you get in the set but don't have a use for. On rough areas you can use the wood and plastic cutting blades, and they will work as scrappers. You do wear out the teeth on the blades, and eventually turn them into nothing but a scrapper. But with a little imagination you can turn those worn out soft steel blades into useful cutting blades. Have any old hacksaw blades? Cut off the ends of the hacksaw blade that are as sharp as new and weld them on the worn oscillating saw blades. Why not use a little imagination to make those blades work for you? Need a little longer blade. I'm not talking too much longer, but when you are working in tight areas like under a car, a scrapper a half inch longer can come in handy. Cut the attachment end off one blade and weld it to the end of another worn out oscillating saw blade.
Come on now. When you work on restoring old cars, not too many design engineers have been in your position. So design a new tool yourself. See how those common blades you are going to find in any set of oscillating saw blades can be made into something useful.
I almost forgot about the sandpaper. This set has the wide and narrow pads and an assortment of paper. The paper sheets come with the hook and loop quick change system. Having the narrow pads and sandpaper may come in handy one day to get into those tight places.
Add your comments at the end of this page if you want to share your ideas. And of course share this article if you think it is worth it. And don't forget to sign up for updates on this site. I'm not in the business of collecting email addresses and I'll never sell them.
If you think I need more pictures, leave a comment. Pictures take more time, and I have many more products to review. And I do search for the best prices for everything I buy. It is the hunt that matters.