Today in Real Estate is a page dedicated to giving the public updates on current Real Estate issues and market conditions. These reports are generated from the Metro MLS, who covers all of south eastern Wisconsin. For some reason they seem to concentrate on Milwaukee in their reports. Which is normally the largest market in Wisconsin, but lately has not represented the what is happening today in Real Estate in other parts of Wisconsin. I guess when you get stuck in a habit, it is hard to get out of it. I wish they had more news about what is happening today in Real Estate in other parts of the state like Sheboygan, Plymouth, Fond du Lac, Green Bay, and West Bend. But we have to take what we are given with a grain of salt. I will make mention of what I see in local markets, and of course, when it comes time for you to buy or sell any Real Estate, I will generate a personal report for you in your local area. That is the only way to do business.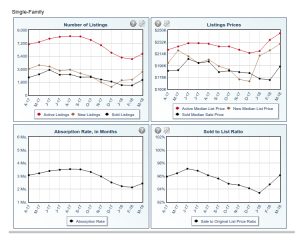 Thanks to the Metro MLS for their reports. I am paying for these, so I may as well share them. I will also post reports from the WRA, Wisconsin Realors© Association, and other local offices when they are available.
If you have any questions, feel free to give me a call, or send me a message. If you want to find out what your house and property is worth in the market today, you can call, or send a message on my form page.
MARKET REPORTS: MARCH 2018
New residential real estate activity has been relatively slow in the first quarter of 2018, yet housing is proving its resiliency in a consistently improving economy. Some markets have had increases in signed contracts, but the vast majority of the nation continues to experience fewer closed sales and lower inventory compared to last year at this time. Despite there being fewer homes for sale, buyer demand has remained strong enough to keep prices on the rise, which should continue for the foreseeable future.
New Listings in the Milwaukee region decreased 14.8 percent to 2,264. Pending Sales were down 58.1 percent to 821. Inventory levels fell 3.3 percent to 4,330 units.
Prices continued to gain traction. The Median Sales Price increased 5.5 percent to $202,500. Days on Market was down 23.9 percent to 51 days. Buyers felt empowered as Months Supply of Inventory was up 7.4 percent to 2.9 months.
The Federal Reserve raised its key short-term interest rate by .25 percent in March, citing concerns about inflation. It is the sixth rate increase by the Fed since December 2015, and at least two more rate increases are expected this year. Borrowing money will be more expensive, particularly for home equity loans, credit cards and adjustable rate mortgages, but rising wages and a low national unemployment rate that has been at 4.1 percent for five months in a row would seem to indicate that we are prepared for this. And although mortgage rates have risen to their highest point in four years, they have been quite low for several years.
All data for the market reports comes from the Multiple Listing Service, Inc. and is powered by 10K Research and Marketing. You can follow this link:
Metro MLS Market Updates
or visit
www.metromls.com
.
The views and opinions expressed in this article are those of the authors and should reflect only on trends that affect the economics of real estate.
I ran across this nice presentation on the housing market report. Take a look and see how interesting it is.